HENRY INDUSTRIES, INC.


An Established Provider of Distribution Center, Warehouse & Logistics Services.
Extensive array of Services

Nationwide Service

Customer Service Driven

Guaranteed Satisfaction
Henry Industries is your one stop distribution center, warehouse and logistics solution. HII provides intelligent applicable solutions to your most important distribution center needs, warehouse needs and most time sensitive logistic needs. With services that range from distribution center operations services and consulting to dedicated & custom logistics, HII can provide a sensible cost-effective solution for all of your organizations needs.
When HII was established in 1991, our desire and mission was to provide our customers with unmatched service that would put them ahead of their competition. We do this by helping the customer to improve distribution center and warehouse efficiencies, by cutting cost, and by streamlining logistics costs and needs. We will manage your projects for you and provide you with the best resources. We provide service in such a manner that HII is considered a value added service provider to its clients. That desire and mission has never changed!
"Henry Industries delivers the one thing to each of its customer's that is absolutely priceless. Peace of mind." - Brent Henry
Latest Logistics News


2011
HII utilizes barcode scanning technology.
HII has one of the latest advances in technology - We have implemented state of the art barcode scanning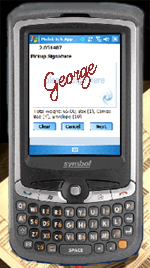 technology which allows us to track packages and freight using barcode reading and signature capture devices. HII scanners have the ability to read a customers existing bar-code which is provided by your existing software, or you may have bar-coded labels created by accessing the HenryTrack web-site. When you access the web-site you may also place as many orders as you like, and when you are done you may print your own labels with the bar-code printed on them.
Since this technology captures the signature of the delivery recipient, you also will have the ability to access your account on our web-site, and after entering your own individual pass codes, see the actual signature of the person who signed for your delivery item(s). The time of the delivery is also time stamped by the devices in order to insure you of accurate proof of delivery information. If you would like to discover how this technology may benefit your company, please give us a call toll free at 888-662-7222.